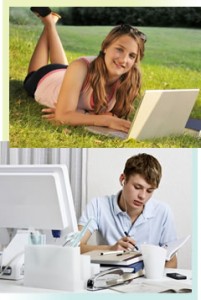 Overview
An analysis of online learning needs in the Carbon and Lehigh counties conducted through the Carbon Lehigh Intermediate Unit (IU 21) concluded that there is a substantial and rapidly increasing demand for student instruction that incorporates technology using online courses. School Districts in the Carbon and Lehigh counties came together as eLearn 21 to enter into contracts for services, develop courses, and administer a viable, cost-effective and quality online learning solution for students.
Vision
The eLearn 21 Vision is to provide learning options that will engage and encourage success and positive achievement for every student.
Mission
The member districts and the Carbon Lehigh Intermediate Unit will increase and extend learner options for achieving common goals by collaborating to develop and implement a regional, comprehensive, student-centered learning solution which effectively utilizes the latest technologies and research-based instructional strategies.
Key Objectives
Address unmet needs of students by increasing available options for learning content.
Increase available options to meet various learning modalities.
Create relevance by connecting required learning to real-world applications.
Increase available options for credit recovery, interventions, and alternative education.
Why Choose eLearn 21?
Students in remote or rural locations with limited course selection.
Students with family obligations, or who have become parents.
Students involved in competitive sports, art, music, or other activities that require a flexible schedule.
Students who want to be prepared for a 21st century job market by developing technology skills.
Students and families who want more flexibility, choice, and ownership in their education.
Students who are bored, unengaged, or behind because traditional teaching methods are not the best fit for them.
Gifted students who want a faster pace or more challenging material.
Special-needs students who need a modified program or a personalized pace.
Student with physical or behavioral differences, or social or health issues.
An Experience Unlike Any Other
Flexible learning options – Your learning program and curriculum is adapted to fit your needs. Learn at the right pace for you, at the time and place that you choose!
Highly engaging curriculum – We use state-of-the-art curriculum designed to be engaging, fun, and to target multiple learning styles. Learn more about our unique model.

Pursue your interests! – Choose from a wide variety of courses and electives designed to allow students to pursue their academic interests and develop a path for success after high school. See our course selection.

Proven methods combined with innovative techniques – eLearn21 is backed by one of the most experienced teams in online learning, with nearly 20 years of proven results and leading innovation in education. We know how to get results, and it shows in our students' academic performance!
Academic excellence with a strong base in Math and Science – We believe that rigorous, well-rounded curriculum with a strong base in Math, Science and Technology is the key to success in the 21st century global economy. We make science fun and interesting! Students can select from a broad range of courses you won't find at other schools like Forensics, Sports Medicine, and HTML. Check out our course selection here.
Our Partners
EdisonLearning, the nation's largest partner to communities and schools, powers the eLearn 21 high school and middle school programs with top-of-the-line online learning curriculum, software systems, and program design. EdisonLearning eCourses (the rigorous, cutting-edge curriculum) and EdisonLearning eAcademy (comprehensive services for full-time cyber programs, including curriculum, technology platform, best practices, and support services) give the eLearn21 program an edge over other online learning programs.
By working with EdisonLearning, all students and staff in eLearn21 programs benefit from the backing of one of the largest and most influential education companies in the country, with nearly 20 years of experience and serving more than 350,000 children annually. EdisonLearning methods are not only research-based, but they are also proven by years of results in the classroom. EdisonLearning is known as a leader of innovation in education, and will ensure that eLearn21 students and schools will continually benefit from the latest techniques, curriculum, and technology.
For additional elective courses and elementary students, Accelerate Education provides online education courses for Kindergarten through 12th grade to meet the needs of all students, from at-risk students who had trouble succeeding in the traditional classroom to high achieving students seeking classes their schools cannot provide for them. With Accelerate Educations range of options, schools can choose how they want to provide this option. They can exercise full control over the educational process, even providing their own teachers, or they can let Accelerate Educations own highly qualified staff teach the students as an extension of their own faculty.